Meet the Gypsy caravans that bring the magic to your event…
Flo – Gypsy caravan for hire
'Flo' is a flash of wild jazzyness based on fairground and tattoo art on a black background. Adorned inside with a lining of Vanessa Arbuthnott fabric and a stained glass window at the back describing the words 'LOVE', Flo makes heads turn wherever she goes.
Frida – Gypsy caravan for hire
'Frida' is based on a traditional gypsy caravan design with scrolls intertwined with flowers in a folk art style. Gorgeous Vanessa Arbuthnott fabric lines the inside with a beautiful stained glass window at the back depicting a gypsy caravan.
Ruby – Gypsy caravan for hire
'Ruby' is a traditionally painted bowtop with intricate Romany scrolls. Her prime colour reflects that of a good vintage red wine with a lining to match using Vanessa Arbuthnott's 'For the Love of Rose' fabric which features shepherds huts and vignettes of country life from a bygone age. The curtains are an artwork in themselves, ethically sourced and block printed by hand in India.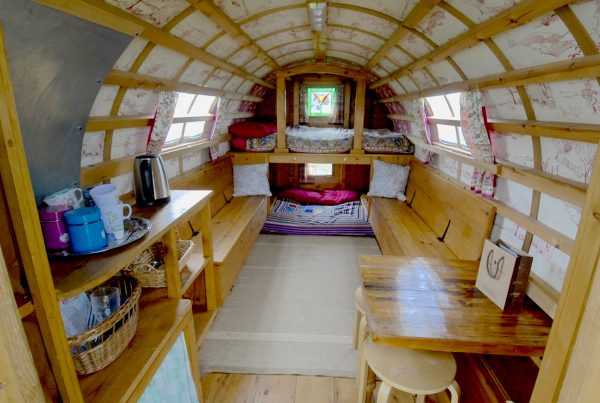 Indigo – Gypsy caravan for hire
'Indigo' has been inspired by the block print fabrics of India. Designed to reflect the iridescent colours of the ocean, the design sits on a background of turquoise and shimmers with gold leaf and crimson. The internal lining is crafted from pure linen with fresh blues to compliment her artwork. The soft furnishings are chosen specifically to compliment the interior lining and exterior artwork .
Greta – Gypsy caravan for hire

'Greta' bowtop has the chic air of a Scandinavian piece of antique painted furniture. Painted with traditional Nordic folk art, motifs, patterns and colours, that you can't help but love. She is furnished with Vanessa Arbuthnott interior organic linen lining depicting Shepherds Huts and traditional farming life and fitted out with all the furnishings that make 'Greta' a unique comfortable and practical stay.
Ziggy – Gypsy caravan for hire
The artwork for 'Ziggy' was inspired by the Mehndi henna tattoos of ancient India. She is an explosion of colour and pattern interspersed with 21.5 carat gold leaf. She is a head turner wherever she goes. Beautifully lined with hand woven and hand spun organic cotton from India. The quality of the internal soft furnishings compliments the lining and reflects on the caravans high end workmanship.
Woody – Gypsy caravan for hire
'Woody' is a celebration of nature from the English countryside. A magical presentation of flora and fauna, as animals, fairy lights, full moons and gypsy caravans balance on the branches of a chinoiserie style oak tree. She is lined with the beautiful fabrics of Vanessa Arbuthnott that reflect, with images of ferns and cow parsley, the beauty of the countryside. Great attention is taken in selecting the best quality soft furnishings that reflect the caravans charm.
Contact me
For further details, and enquiries about availability, please contact Greg or Juliet.
Any questions happily answered.